We Boost
Your Factory!
COGTIVE is an A.I. powered MES+MOM software solution pushing the boundaries of productivity in manufacturing, changing the way leadership overview the factory floor and enhancing production efficiency and impacts business with real results.
Get to know the solution better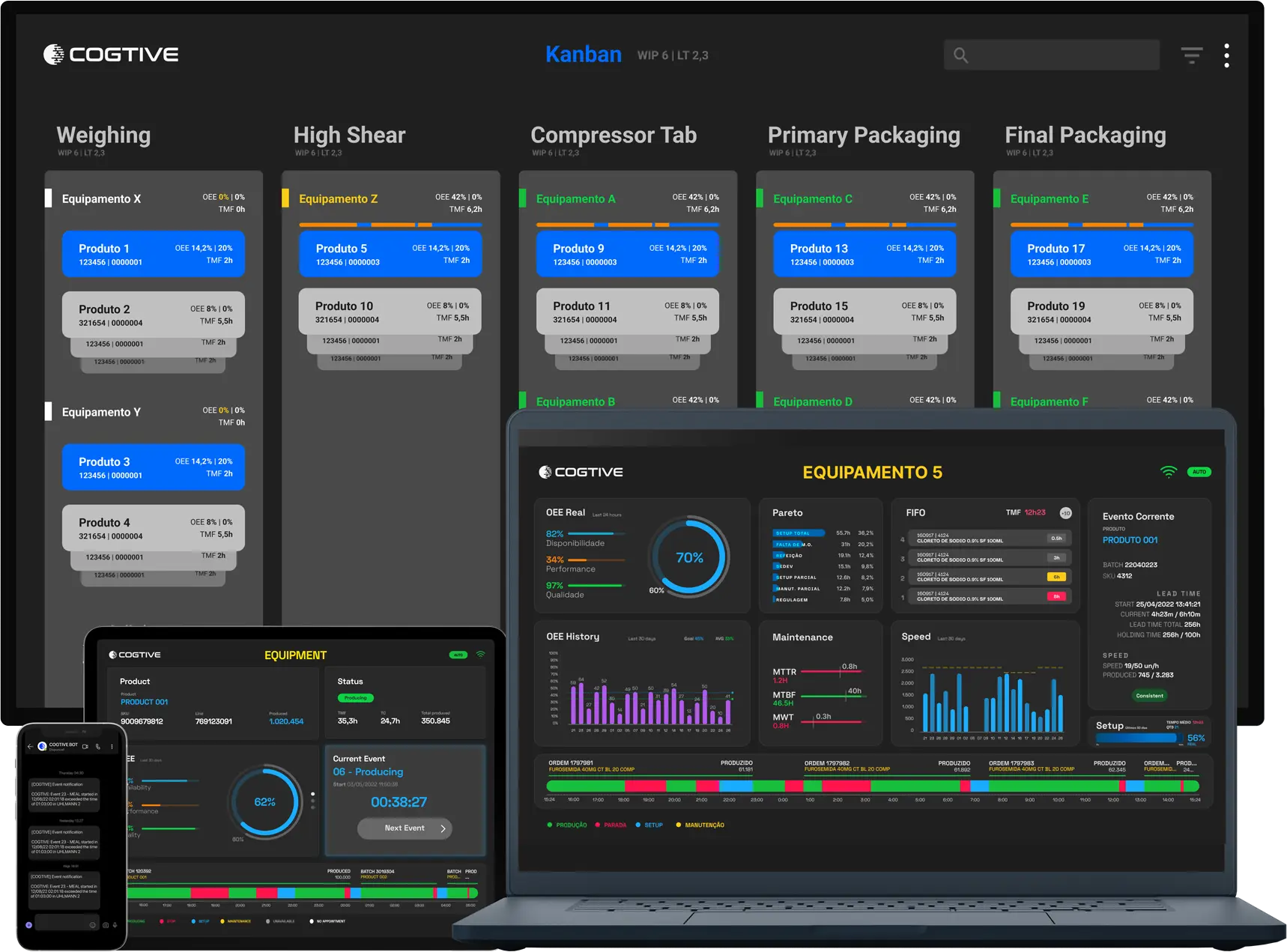 Trusted by companies across the globe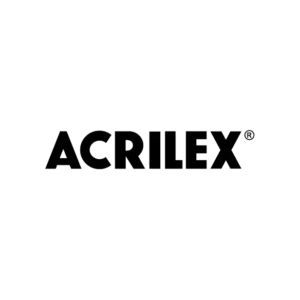 COMBINING
MES & MOM


FOR MANUFACTURING EXCELLENCE
Factory Virtualization
Digital Twin
Take the next step with our cutting-edge productivity kanban, transforming your factory floor into a virtual perspective. Identify bottlenecks, lead times and holding times.
Quick and impressive decisions to boost your team with the power of 300 PhDs.
Unique KPI Suite
Full package indicators
We cover important indicators to provide a better decision making for leadership, such as setup and change-over performance, maintenance indicators (MTBF, MTTR and MWT), OEE and its derivations (Effective and Optimized OEE, TEEP), Speed and much more.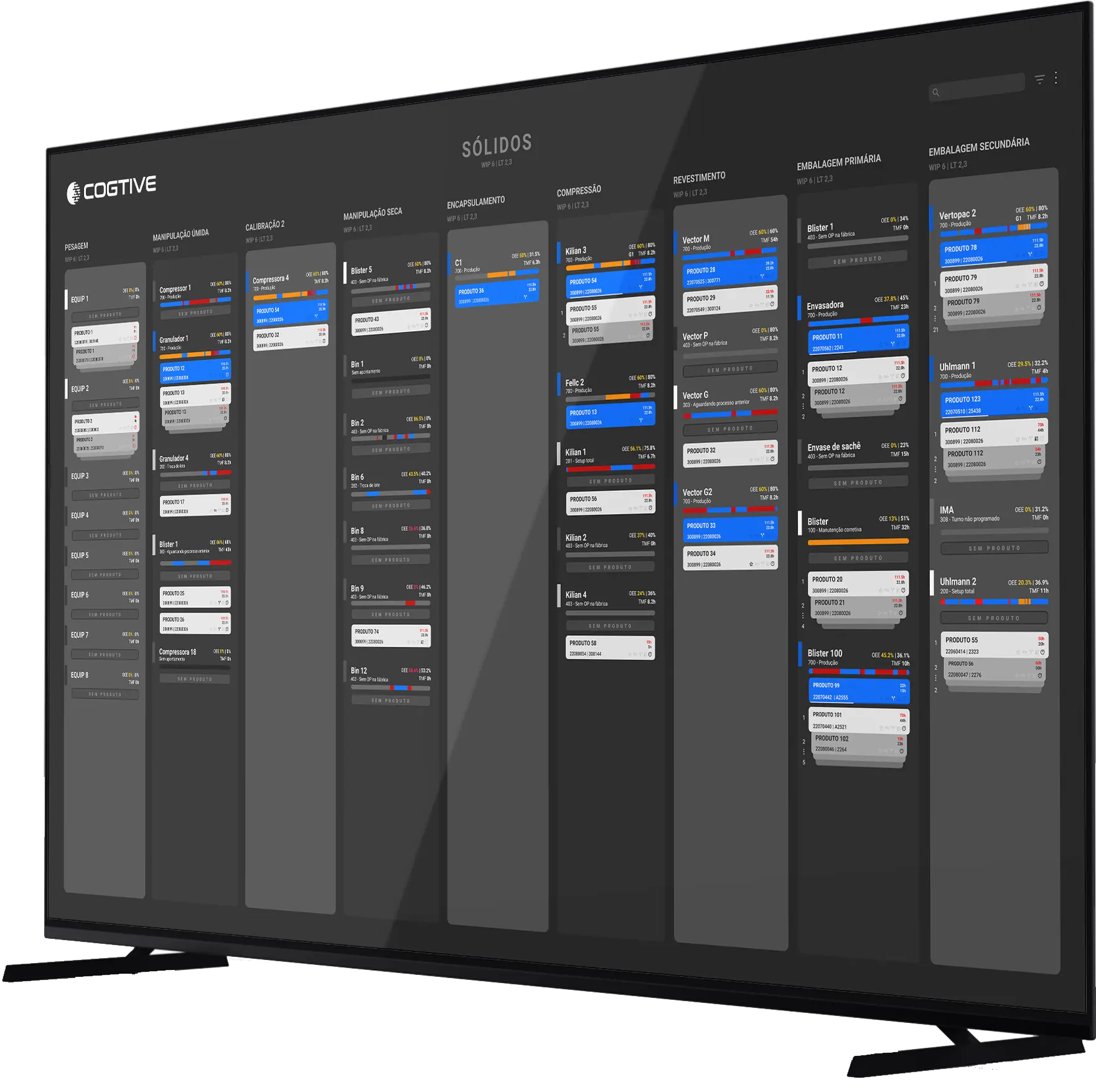 MORE THAN
in savings for
our clients
MORE THAN
tracked
products
MORE THAN
monitoring
hours
MORE THAN
in output
increasing
Your factory

at a glance
Shop floor virtualization
Flow View (Production Kanban) provides your team a clear digital twin of the productive process, showing the production orders movement throughout the factory, FIFOs being formed in real time, Lead Times and Holding Times, Route Deviation and a lot of other features.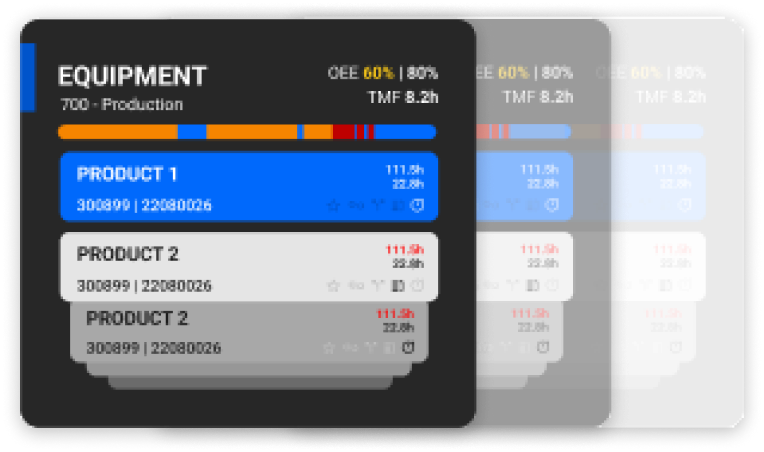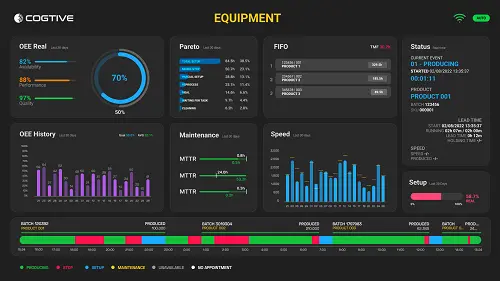 Game-changing

equipment performance dashboard
Your machine indicators like you've never seen before
Follow the OEE by shift, daily, monthly or other periods, track the main down times, keep with the maintenance goals, see the product queue in real time and get accurate information about your Setup / changeover performance, follow the current asset event remotely by Microsoft Teams, SMS or Slack notifications.
Outstanding

data collection
Fastest and easiest way to collect data in manufacturing
We worked hard to make your team work easily. Quick implementation and easy data collection to digitalize your factory in a snap. Depending on your factory configuration, you can use Tablet + IoT, Cameras with AI Recognition or booth to get valuable data from the shop floor.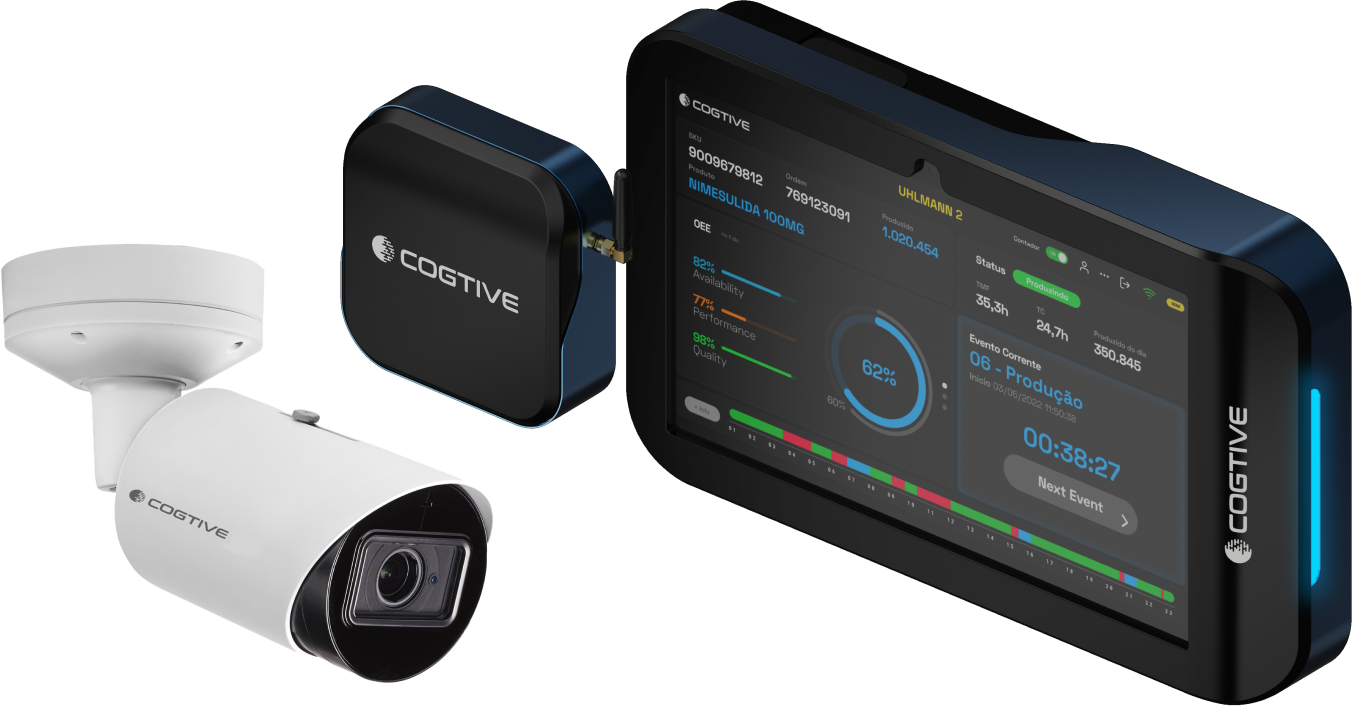 THE ULTIMATE A.I. FOR A PRODUCTIVITY LEAP
More performance, less arms
TÆLOR is an A.I. with a proactive behavior searching for opportunities and finding the right person, with the right role to solve problems before they become relevant.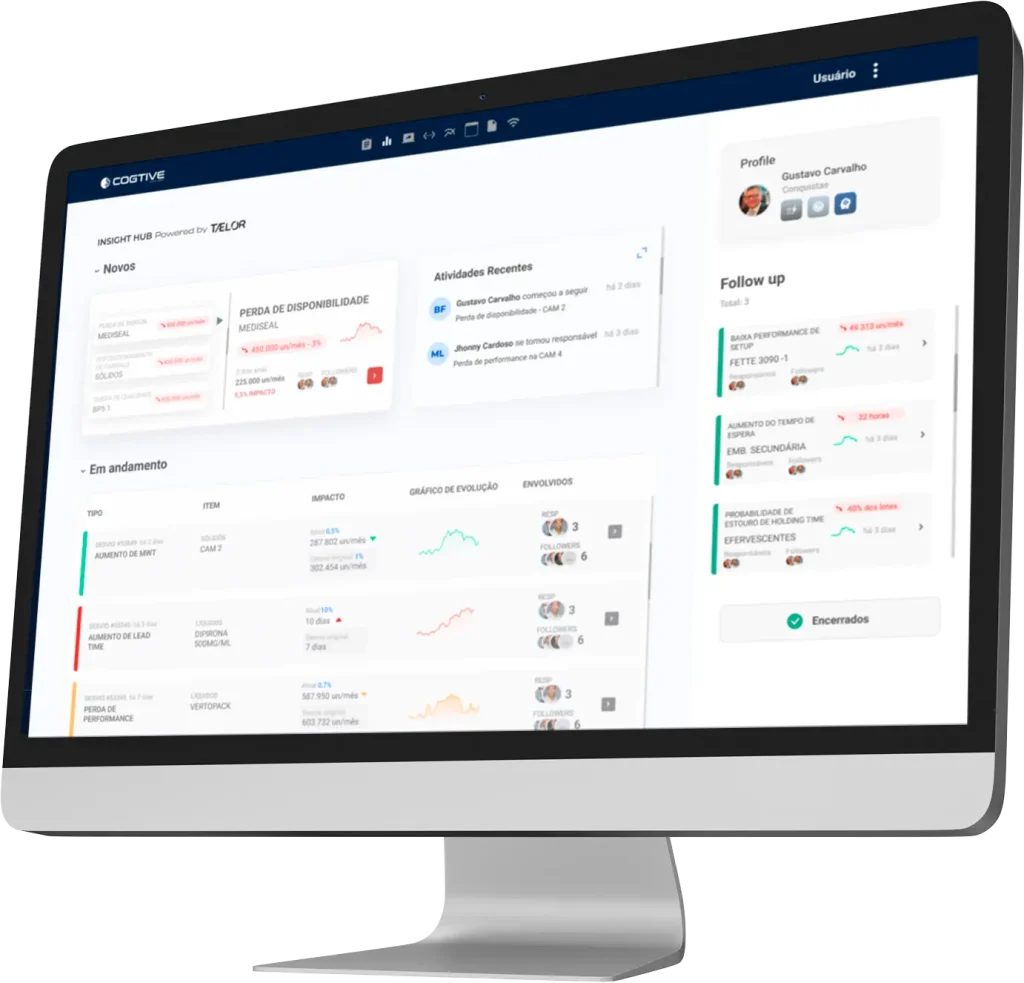 The only solution that provides a global factory overview
Digital Twin of your factory
Precise bottlenecks identification
Lead Time and Stocks reduction
Better production planning and scheduling
Accurate decisions with real time information
+70 features to transform your productivity
Delighted users
.
Milton Rizo
Chief Operating Officer of
Ourofino
"Here at Ourofino, we daily seek digital solutions to revolutionize our industry. Through virtualization and real-time monitoring of the entire process, COGTIVE improved our OEE by 29%."
Marcio Mendes
Manager of Operational Excellence of
Apsen
"With Cogtive, we gained confidence in data, real-time flow visibility, and manufacturing efficiency, as well as digitizing the notes, making day-to-day operation easier."
Márcio Valentim
Director of Operations Intelligence of
Eurofarma
"At Eurofarma, the search for continuous improvement is constant, and COGTIVE helps us identify our main difficulties every day, so we can act more accurately on our problems."
A unique approach focused on

revealing your factory's full potential

The IoT device collects equipment data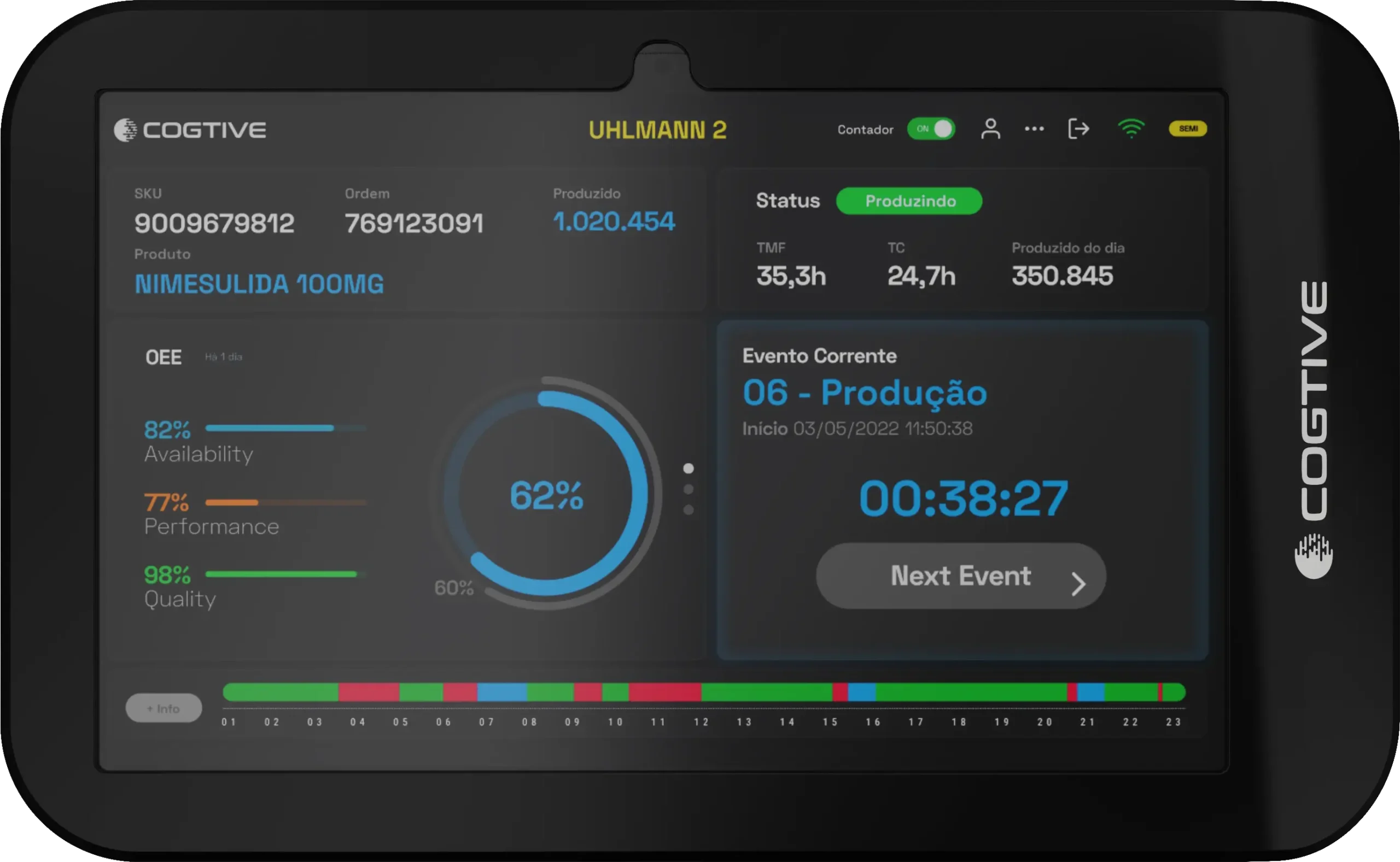 All the data is live uploaded to our app within a tablet device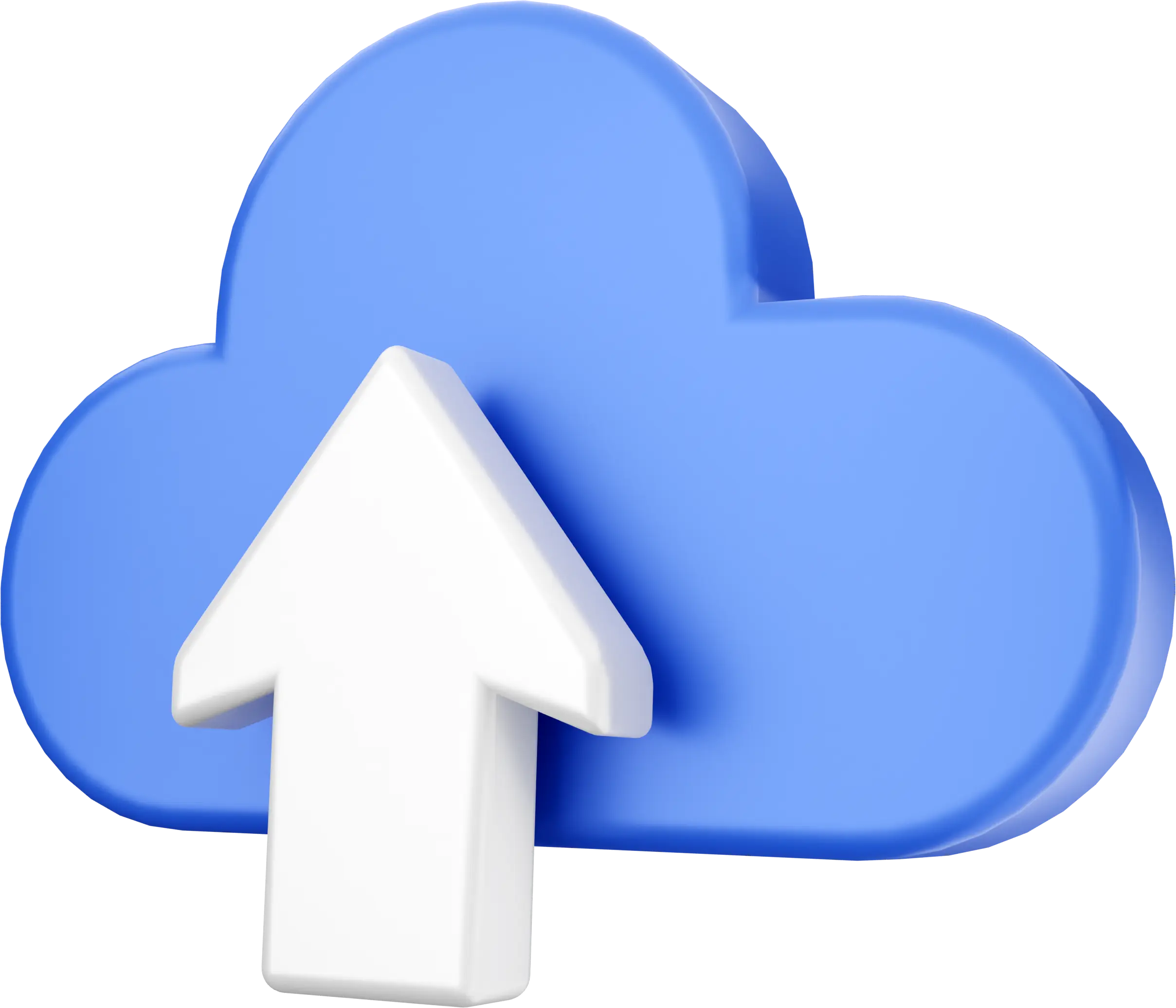 Once the data is collected by the tablet, it'll be automatically uploaded to our servers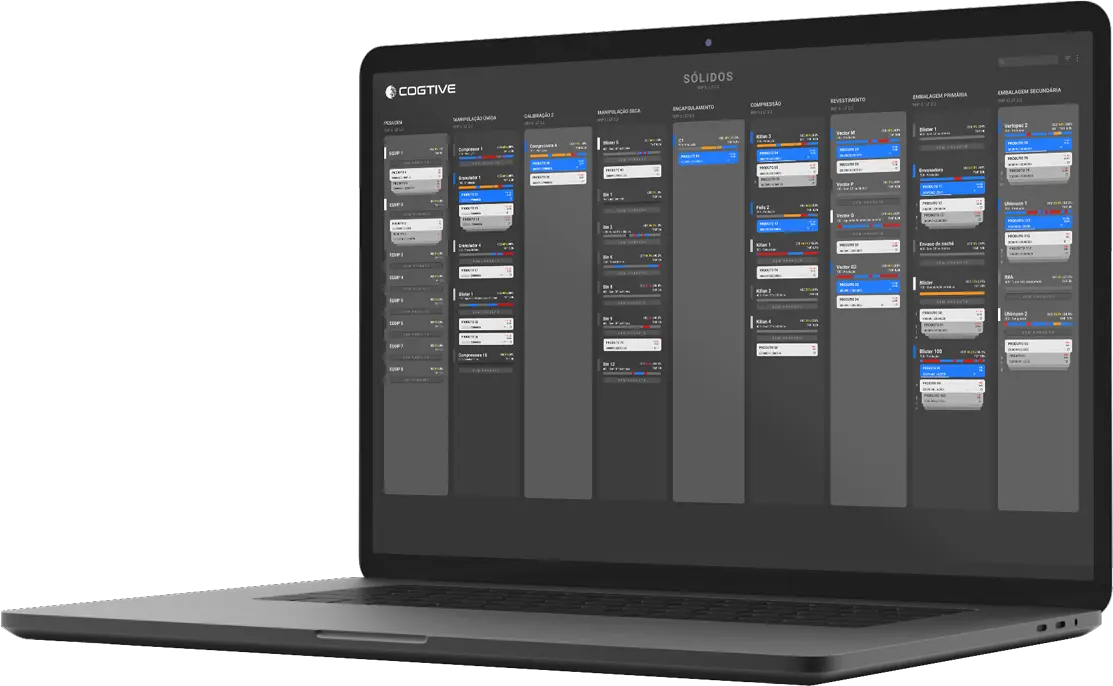 Our software transforms raw data into friendly and precise indicators
And here it is! All the data in one place and you can choose how to visualize it.
All the data is live uploaded to our app within a tablet device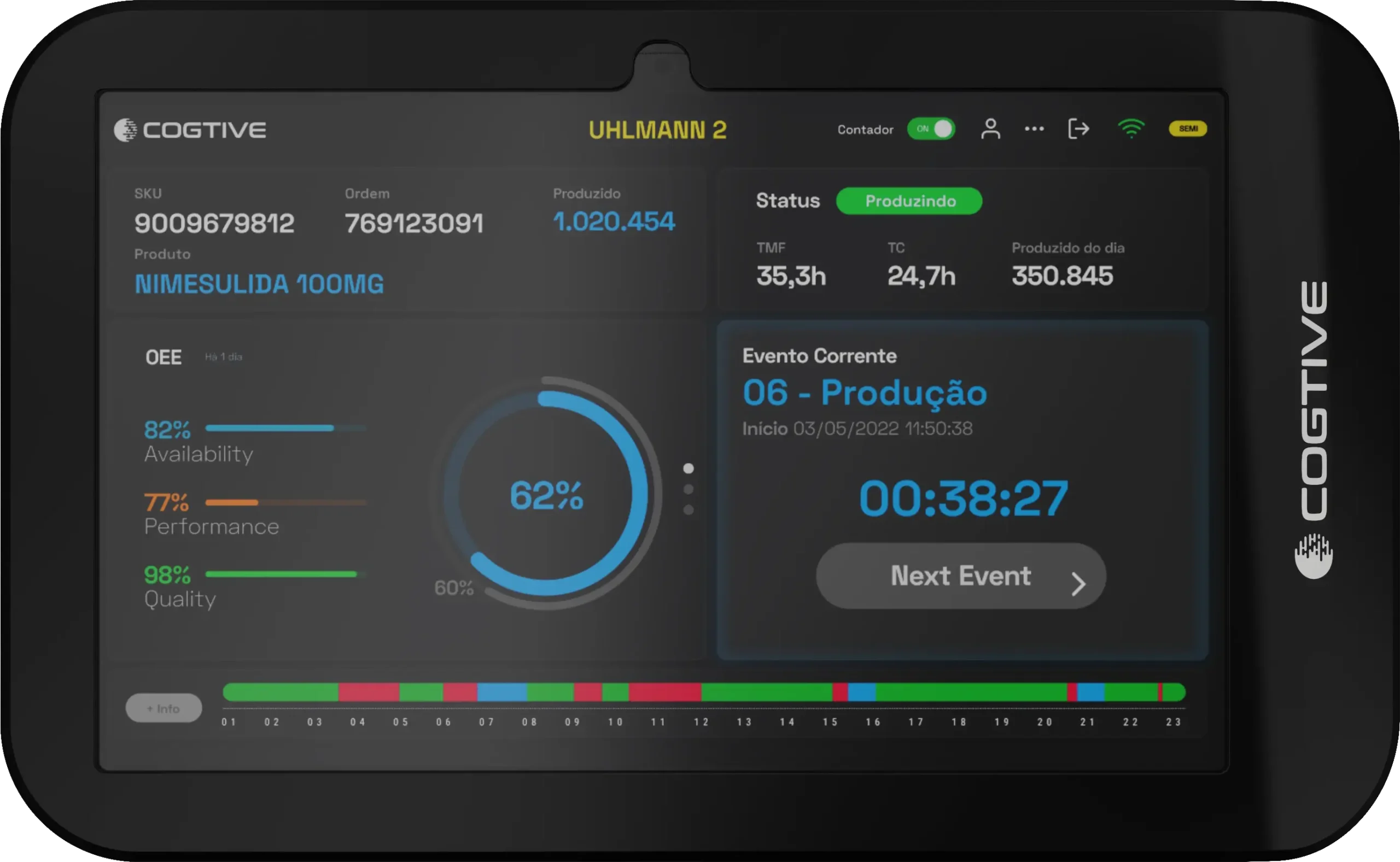 Our software transforms raw data into friendly and precise indicators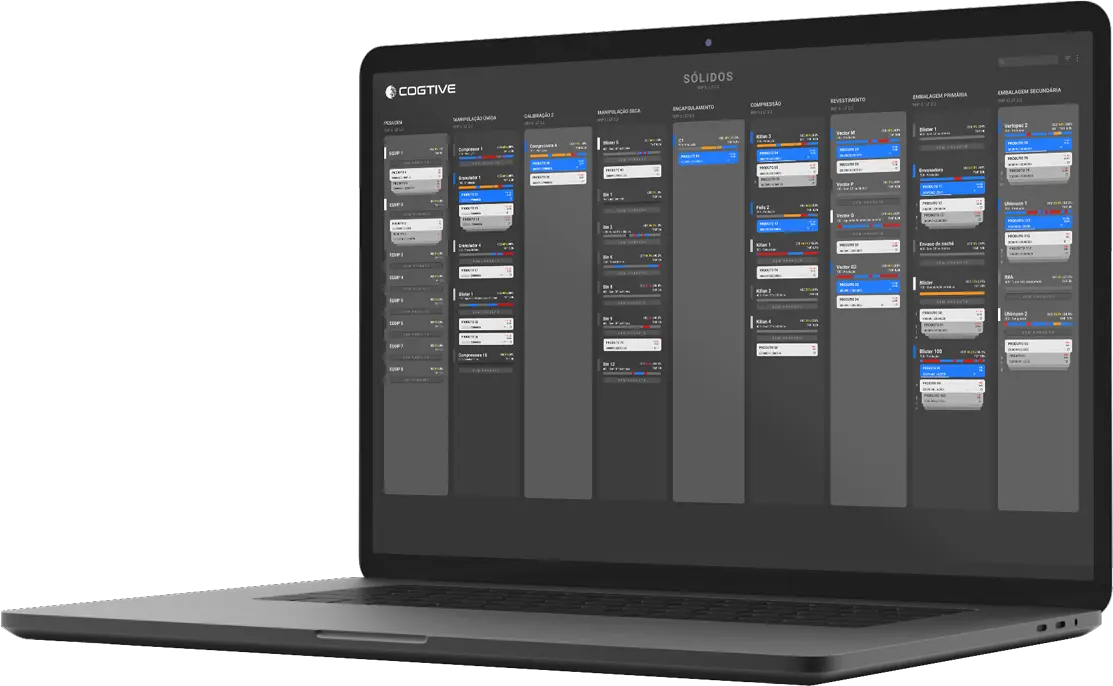 FAQ
Still have questions
?
Here you will find the answers to the most common questions about our platform,
from features to conditions of use.
COGTIVE is an IoT and A.I.-based MES+MOM software for optimizing processes and increasing productivity in factories and industries. The solution collects data, processes it, and provides a clear digital view of the factory floor for managers and production line operators. Using artificial intelligence and video recognition, COGTIVE can identify improvement opportunities and find the right person with the right role to solve problems before they become relevant.

Why do I need a solution like COGTIVE?

If you want to increase your factory's efficiency, reduce downtime, improve production rates, optimize labor use, and achieve your factory's full capacity, COGTIVE will help you.

How long does it take to implement COGTIVE?

COGTIVE is a plug-and-play system, meaning you just need to start collecting data and upload the base (equipment, products, and cycle times/speeds), and the information will start to be generated. It's simple, fast, and easy.

Can I install COGTIVE on any equipment?

Yes, the system can be implemented on any type of equipment or production line. It can be used for discrete/continuous production equipment, where sensors can be used to count approved and rejected products (regardless of the line size), batch equipment (such as tanks, mixers, coaters, and reactors) where it's possible to measure the process duration/recipe, or even manual lines where there's no process automation.

What are the hardware investments required to use COGTIVE?

Data collection can be done manually, without hardware investment, or with the use of sensors connected to an IoT that communicates with the software through a simple tablet – which is not necessarily provided by us, so it's possible to reuse tablets from the commercial area or other areas of the company, which ends up being a great saving.

How long does it take to have good enough data to be analyzed?

It all depends on the degree of commitment and dedication of the team involved. In cases where there is a small dedicated team (one person is enough for small companies) for implementation, data collection, and team training, it's possible to have reliable data around 30 days after the implementation start.

To speed up this entire process, we provide and assist in the execution of a step-by-step implementation process – based on the best practices of our customers and our market experience – which ranges from Database Consolidation to Indicator Evaluation and Success Case Creation.

My company is small and has few equipment, can I implement COGTIVE?

Certainly! COGTIVE works with small to large companies since the contract value varies according to the number of contracted equipment! Contact us and request a quote, you will be surprised!

Is COGTIVE an OEE measurement system?

No, COGTIVE is much more than that! In addition to detailed information on OEE and its derivatives, its main function is to assist leadership in decision-making on the factory floor, with flow management made possible by Flow View (our digital twin). That is, the system provides in real-time:

Lead Time information;
WIP Control;
Equipment queue management;
Ideal sequencing of batches;
Anticipation of Holding Time problems of batches;
Equipment effectiveness;
Improvement insights through our artificial intelligence, Taelor, and much more.

I already have a solution for my OEE. Does COGTIVE add value?

Yes, COGTIVE adds a lot of value to your OEE. While other OEE solutions focus on individual machines, COGTIVE provides a holistic view of the production process, allowing you to focus your efforts on bottlenecks and leverage the full potential of your factory. Additionally, our solution incorporates insights from our AI, TÆLOR, unique indicators for setup performance, an exclusive holding time management system, and maintenance-related features.

We have never worked with OEE in our company, can we still implement the system?

Absolutely! The COGTIVE team has experts in Flow Management and Process Performance who can provide quick and practical qualification for your team.

Our calculation metrics and indicators are very different from the entire market, can we still use COGTIVE?

COGTIVE allows the user itself customization of parameters and indicators to fit your company's needs. For example:

"In our OEE calculation, we exclude Meeting/Training events."
It is possible to select the events that were included or excluded from the OEE calculation.
"We calculate MTBF, MTTR, and MWT maintenance indicators considering only corrective maintenance."
It is possible to select the events that were included or excluded from the maintenance indicators calculation.
"We have several types of events different from the market."
It is possible to register as many events as necessary.
"We have several alternative equipment to process the same product."
It is possible to register alternative equipment on product routes.
"We have an average meal time indicator, can I create this indicator?"
Yes! It is possible to create custom indicators quickly and easily, without the need for COGTIVE team support.

How can the top and middle management utilize the system?

COGTIVE consists of various indicators and dashboards that aid in quick decision-making and understanding of your factory's capacity. Furthermore, the Heindall system evaluates data and identifies inconsistencies and anomalies, enabling corrections and greater confidence in the analyzed data. In other words, it facilitates decision-making using increasingly reliable numbers.

In addition, lots with priority delivery or under surveillance can be favored by the user, allowing them to receive real-time information via their phone/email. The Manager/Director will no longer need to send 10 messages or make 10 calls to know the status of products or equipment; all this information will be in their hands.

Is it possible to export data to Excel?

Yes, all data contained in the system is exportable. All COGTIVE reports are exportable to Excel. The reports contain the main calculations, module results, and registration information.

Is it possible to connect COGTIVE to my ERP or BI?

Yes, COGTIVE has an open public API (restful) allowing any ERP and BI to be integrated with minimal effort.

The customer support area will be responsible for providing technical support and assistance to users of the software-as-a-service platform. Support uses various communication channels such as email, chat, WhatsApp, and phone to meet customer demands.

In addition, support team members can provide training, documentation, and self-service resources to help users maximize the use of the SaaS solution.

Support hours are from 8:00 am to 6:00 pm, Monday to Friday, except holidays.
Is your question not listed in our FAQ?
We understand that your choice of management software is important and requires careful consideration.
Please don't hesitate to contact our support team to answer any additional questions you may have.
CONTACT US